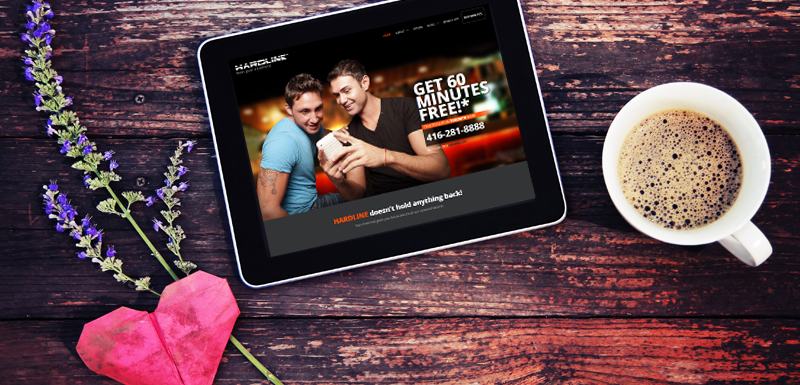 You know Valentine's Day is coming up soon, right? And if you don't have that someone special yet to start making plans, you need to get yourself going!
Where to start looking, you ask? Well, lucky for you to have found Hardline Chat! Our mobile app has all sorts of categories to help you find either your future husband or just your Valentine's Day date.
Sexual Encounters
Are you looking to get things hot and heavy for the holiday? I mean, Valentine's Day falls on a Saturday this year, so that pretty much makes it a Valentine's Weekend. And if you want somebody in bed for a full 48 hours, you need to hit up our Sexual Encounters section. There, you'll get to chat with guys that are all about some quick n' dirty lovin', whether over the phone or in person.
Friendship & Dating
But if you're looking for something a little more innocent, our Friendship & Dating category has all sorts of men looking to spend Valentine's Day either romantically or platonically with other gay or bi guys. Take a walk in the park, go to a museum, cuddle as you watch a movie together on the couch… it doesn't matter what you want, but you're not going to get it if you don't jump into the chat!
Discreet Encounters
Perhaps you want a fling, but want it strictly NSA (No Strings Attached). Maybe you're curious and want to experiment. Maybe the thrill of a near stranger gets you off. Maybe you just don't want anybody to know what you're doing. Regardless of your desire, Discreet Encounters will place you in the thicket of guys looking to hook up as secretively as you do. Look through them, chat them up and then pick out a live one (or four).
Alternative
But maybe things are still too vanilla for you. Do you like BDSM? Leather? Animal suits? Whatever it is, Hardline Chat has you covered with various subsections in our Alternative chat category. Once you're in, you can easily locate other men who are into the same kinks you are. And once you find a good match, it's up to you how far you want to go!
Groups
Who says Valentine's Day is only for couples? Our Groups section will plunk you right in the middle of a sea of eligible men, all looking to cram as many guys into the place as possible. Here, there's no need to pick out just one or pretend you're not filling up more of your dance card. Instead, group talks and group play are encouraged. And who knows, maybe you'll all make some nice plans to meet up at a host's home on Valentine's Day! Just make sure to pace yourself.