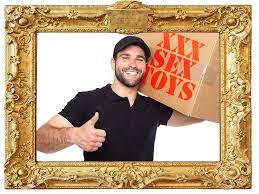 Toy Box
I was watching Shameless recently and got a big kick out of watching them shop for toys. You know the kind of toys that only adults are supposed to play with? Rubbery, jiggly, vibrat-ey things! I started chatting on line to local singles about them and we had a crazy fun time! This inspired me to write this blog about toys! What kind of toys have you played with or what would you play with? Do you even know the world of amazing sex toys that is currently available to you?
Why not spice up your sex life and play with some new toys? You will see it adds a dimension of fun and creativity that you may be missing in your life. Not to mention that exciting feeling of anticipation that you can't wait to get home and start playing!
So what kinds of toys are for you? There's dildoes that you can strap on and role play. Some come in different colours and sizes. There are vibrators of all kinds. Some vibrators you strap on your hand and they make your hand vibrate so you can give nice vibrating massages or erotic touch with. There's vibrating toys in the shape of both male and female genitalia, There are even some in the shape of dolphins or bananas!
Part of the fun is shopping for them too! These stores can be a lot of fun, with bright colours and textures and many styles of clothes and costumes as well. There are lots of online stores for those of yu who are too shy to buy in public. Always remember to keep your toys very clean and if you are using them with multiple partners, use condoms on your dildoes or anything you insert. Here are some links to some really great toy websites.
Play safe and have fun!
https://www.bedsider.org/features/552-frisky-friday-top-5-awesome-online-sex-shops