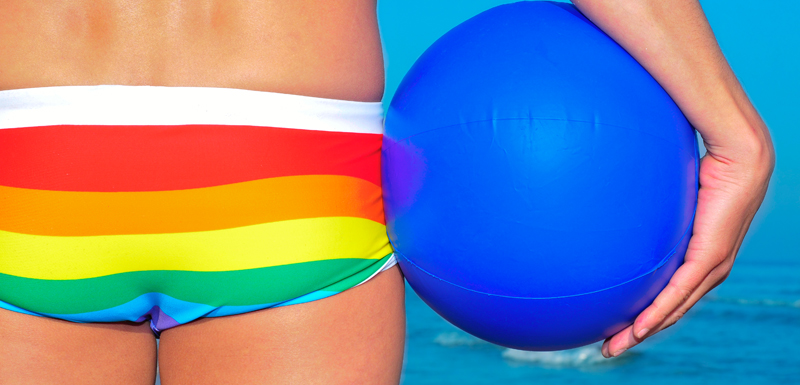 Summer is a time for gaining new opportunities and trying new things. It's a time of sun, fun, and getting yourself back outdoors after a long winter. But as you're eagerly awaiting to spend more time with your friends and loved ones, do you know if you're prepared for the weather changes? It takes way more than just shorts and flip-flops to make it a great summer. There are tons of awesome, simple innovations of technology out there to make your time outside safer and more enjoyable. Take a look at our top 5 coolest gadgets for a hot summer!
UV Tester
Do you know when you've been in the sun too long? It takes way more than noticing any changes that may or may not happen to your skin while you're out. Enter UV Testers, like this one from Kikkerland. Picking up on the UV rays in the moment, this tester can tell you when it's safe to continue being outside and when you've finally had too much sun. With people who have naturally darker skin colors and for those times anybody is outside on cloudy days, this gadget is particularly handy in telling you when being outside has hit dangerous levels.
Sunburn Wristbands
Don't want to keep a gadget on you all day? Sunburn wristbands can be just as handy! These little bands are made of paper and are worn exactly like admission bands at an amusement park. Only instead of just sitting there on your wrist, these disposable pieces of paper turn different colors depending on how much sun you've had that day. Activated by sunscreen and being out in the sun for a few seconds, the wristband's varying colors also tell you when it's time for a reapplication and when you just plain need to find some shade. From such companies as Sunburn Alert, there are also sunburn wristband alternatives such as stickers!
Phone Solar Charger
Outside all day without a wall socket in sight? Take advantage of the summer's long days by getting a solar charger for your phone. With all of your GPS usage while hiking and friend planning while at the beach, you can't afford to let your phone's battery die. Make sure your awesome day stays awesome by staying connected with the outside world no matter how impossible it is to use your old, plug-in charger. Also, it's simply more eco-friendly. Get with the times, man!
Waterproof Phone Cover
Just as the sun can be helpful for your phone, water can be a killer. If you're the type that gets the dropsies around oceanic cliffs or tends to jump into pools without remembering to check his phone, then a waterproof cover is exactly what you need. Brands like Seidio encourage you to take their covers to the test, as they additionally protect against snow, dust, and even are extra impact resistant. No more waterlogged phones and no more shattered screens. Specialized phone cases can make your summer craziness worry free!
Pocket Band
Going for a swim is awesome, but getting locked out of your house usually isn't. The problem with going to the beach or pool all day is you often have to leave your pockets behind, which is why Pocket Band was invented. These simple, stretchy wristbands come in all sorts of colors and have just enough space to fit a couple of keys, some paper money, or any other small, slim trinket you need to live your life. Waterproof and designed to keep your valuables safe, they can be easily worn in water with extended periods of time. Never worry about losing or having your keys stolen again!
Which of these awesome summer gadgets have you tried? Give us reviews of them in the comments below!