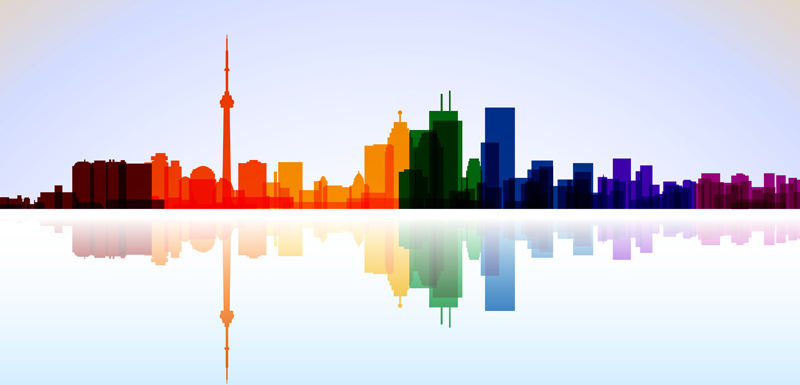 Oh sure, you've been gay for a while. You think you know it all. You may have even been to Pride Toronto more than once. But do you know if you're doing it right? While having a good time is essential, there are also all sorts of pesky little things you need to keep in mind. Everything to bathroom etiquette to remembering sunscreen are important to make sure you—and everyone around you—makes this Pride Toronto the best one yet.
Want to know more about the things you don't? Check out our survival guide!
Sunscreen
It sounds silly, but it's a pretty big deal, especially for paler guys. Pride Toronto is filled with activities and events that take place primarily outdoors. And when you're outdoors for hours on end, it's going to leave a mark if you're not careful with your skin. Make sure to slather on a powerful sunscreen and reapply every few hours. No matter your skin color, the sun can be damaging even if you don't see any sunburn. Keep a bottle of the stuff on you. Not only will it protect you, but it's a great excuse to touch other guys in case they don't have any sunscreen for themselves!
Public Restrooms
Sure, you know how to use a public restroom, but do you know how to be courteous in one? Especially with events that are LGBTQ, there will likely be a decent amount of gender non-normative appearances and behaviors going on. Public restrooms often make themselves gender neutral as a way of showing respect to everyone. And even if they're not officially made gender neutral, the parade-goers will simply make them so. Make sure you've educated your brain in the ways of gender non-normativity and with the concept that everyone has the right to use a restroom regardless of any gender labels. Don't correct people or say negative comments toward them. They know what they're doing and they're not out to hurt anyone. They just want to pee and get back to the festivities.
Gum & Lighter
Another suggestion that may sound silly, but make sure to have one or both of these on hand even if you usually don't use them. You're going to be around a lot of men who use them themselves and—lo and behold—they've run out! So do you have any gum or a light on you? You better if you want to have a better chance at chatting guys up! They're the perfect excuse for someone to approach you, and you can get them to stick around if you're able to give them what they want.
Water
Basically, drink as much of it as you can. You're going to be out in the sun for pretty much the entire time, and it's just as important to stay hydrated as it is to keep your skin from burning. Feel free to have beers around the clock, but it's important to balance them out with water. Alcohol is not—we repeat, is not—a substitute for water. If you forgo fluids or stick only mainly to alcohol, you're going to run the risk of heat stroke and dehydration. And that's just going to be embarrassing for everyone.
Queues
Plenty of activities mean plenty of time waiting in line. It's unfortunate, but it's true. If you want to get into the places that seem the most fun, you need to know that you're going to just have to wait in the queue like everyone else. Don't try to cut ahead, don't try to be cute with the bouncer or whoever is in charge, and don't act you're more important than anyone else. Not only will you decrease your chances of getting into your desired space, you're going to tick off all the hot guys waiting around you. If you're looking to make friends at Pride Toronto, be well-behaved in line.
Is this your first time at Pride Toronto? Were you surprised about anything on our list? Tell us in the comments!