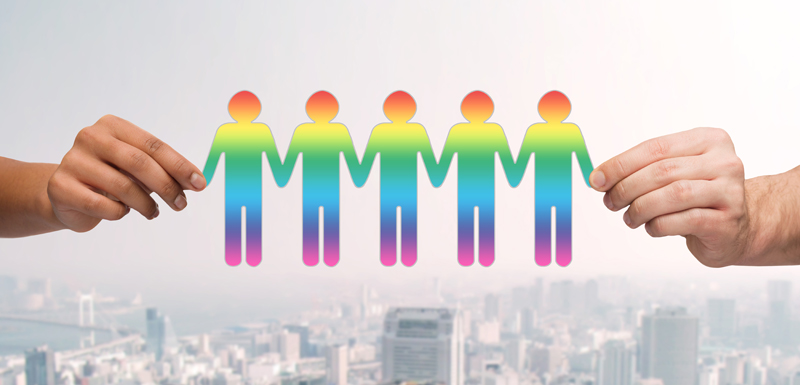 If you're single, then you probably already know that summer is the best time to stake out as many tawdry summer romances as you can handle. But while many of us are privy to this fact, we don't all necessarily know the best ways to actually meet more gay men. But if you're in the city, you're in particular luck. There's plenty to do, see, and experience while meeting eligible men along the way. Turn our suggestions into your summer bucket list and see what happens!
Go to the Beach
One good first way to meet new people in your city is to, well, leave it. Head to the outskirts and find a good beach to lounge on for the weekend. With that much heat and skin around, you're bound to turn some heads! Or, at the very least, have your head turned yourself. Some beaches have been known to host "gay days" and other related events, so be sure to keep up on the local news to know when those opportunities arise!
Wait in a Long Line for Popular Movie or Concert Tickets
The summer is a fantastic time for long-awaited movies and concerts to crop up. Make your man hunting efficient by scoping people out while you wait in those ridiculous lines for the tickets you so desire. The great thing about waiting for hours in a single line is you get to know the people around you pretty well. And if what you're waiting for is a known LGBTQ-related movie or band, odds are the cute guy right in front of you identifies with the community.
Take a Day Trip
Go to a new part of the city you've never been to before, a touristy place, or a place you otherwise never really go to. The key here is while the city is big, it can also go stale. There are only so many LGBTQ clubs and gatherings, right? If you find your prospects running dry, take the opportunity to spend the day in a part of town completely fresh to you. Odds are with a new place will be new men, and that simply spells out more dating opportunities for you.
Hit Up the Festivals
When it comes to summer in the city, LGBTQ-related festivals are always a thing. If your city is big enough, the attendance numbers should be huge, giving you ample opportunity to snag some new digits. The key is to be exceptionally cheerful and friendly. It's extremely welcomed and contagious behavior in those situations, and will be well received by the right people. Get yourself into a few new groups and you'll likely find yourself invited to after-parties at bars or homes as a bonus.
Volunteer at a Summer Camp or Program for LGBTQ Youths
Obviously, we're talking about meeting some of the other counselors, not the kids. While summer spells out great LGBTQ programs for relative youths, it also means that volunteers and counselors will be needed to coordinate the programs. See if you can donate your time to a worthy cause helping kids while also getting to meet some gay adults on the side. You'll instantly win bonus points with guys for your charitable ways and have a great icebreaker with which to strike up conversation.
Hardline Chat
With Hardline growing at such a fast rate, we're a great resource for finding men who live in the same city as you. Just search through our features and see which cuties are looking for a summer romance. Remember, with so many categories to choose from, it's pretty much guaranteed you'll find exactly what you're looking for. We're like your own personalized, city-wide matchmaker!
What successes have you had by following our advice? Are there any other ideas you came across during your travels? Let us know in the comments!