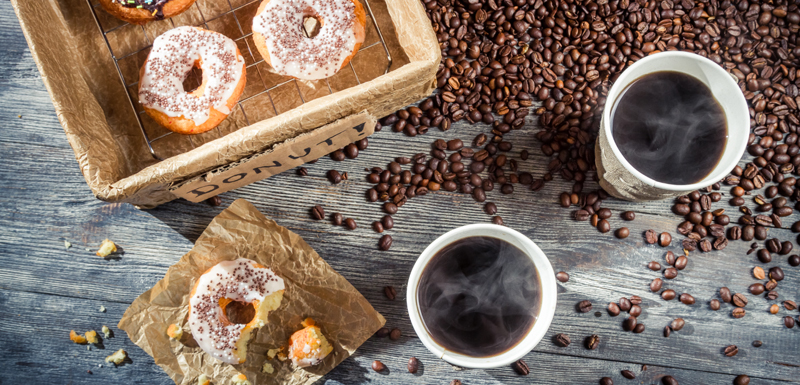 Having some manner of breakfast food available for a guy after you've slept together is just plain good manners. Being sent off hungry is the worst, and will guarantee you no second booty call. But even if you're not looking for a second turn, come on, don't be a jerk. The usual staples such as cereal and coffee can suffice, but if you really want to impress someone, go a little fancier. There isn't a man alive that can pass up a breakfast that was lovingly made with him in mind, and there's no way he'll be able to forget you afterwards. Stand out in his mind and show you care by pulling one of these awesome recipes. From meats to smoothies to vegan dishes, they're all surprisingly quick, easy and capable of pleasing any palette.
This low-carb "wrap" is actually eggs combined with bacon, lettuce, avocado and tomato. It makes enough for 4 people, which is great for either two really hungry guys or a small orgy looking for a snack. And with its ability to be prepared in under 20 minutes, what could go wrong?
Does your guy love PB&J? Then make him this smoothie filled with frozen raspberries, nut butter and milk. Incredibly quick and easy for an on-the-go breakfast.
Looking to get fancy without any of the work? Impress him with bananas, walnuts and melted brown sugar over classic French toast. The best part is the recipe is simply begging for you to use up those aging bananas and that day-old bread!
First of all, chocolate. Second of all, this is something you can make in preparation for the guy staying over, which means way more time in bed before you two need to get up and eat. And this can easily become a gluten-free option if you simply substitute the oats for a gluten-free variety. Simple!
But what about cooking a hot breakfast for a vegetarian? Try this veggie breakfast bake, which gives you 3 of your 5 recommended vegetable servings for the day. It also requires the over instead of the pan, which makes things more hands-free and gives you more time to lie in bed as you two wait for it to finish cooking.
Okay, fine, but what if you have a vegan houseguest? There are still plenty of quick and easy options available, such as this bowl of oatmeal packed with essentials for your nutrition. Just combine rolled oats with a ripe banana and a little almond milk, top with such things as cinnamon, almonds, and shredded coconut, and you're good to go.
But if you're really looking in impress a vegan sleepover friend, consider pulling out all the stops with something decadent that still doesn't include any animal products. All you need to do is substitute applesauce and almond milk for the eggs and dairy you'd use in a non-vegan recipe and boom! Awesome waffles.
Do you have any favorite breakfast recipes? Which ones have been guaranteed to bring guys back? Share with us in the comments!