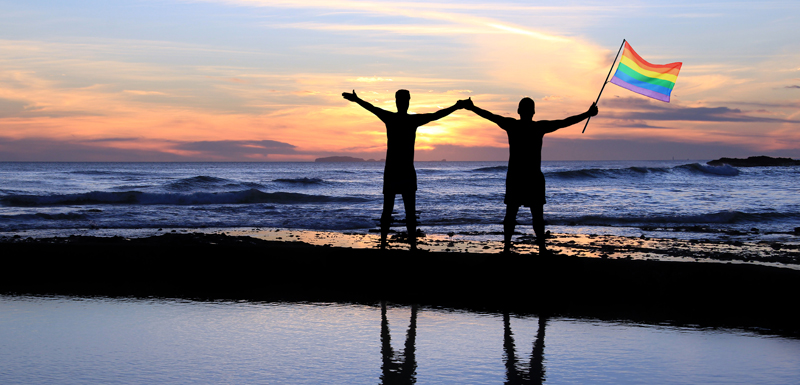 Plenty of celebrities keep their love lives quiet, but when they're willing to open up, it's a real treat. They get bonus points if they're somewhere on the LGBTQ spectrum, not fearing about coming out and telling everybody who they are. Not only are moves such as these healthy for the couples themselves, but they provide more role models for LGBTQ youths and commoners. It's great to look up at a music, movie or television star and know that they're not only playing for your team, but have some great relationship insight that you'd be best striving for. Check out our top 5 favorite same-sex celebrity relationships!
Couple: Neil Patrick Harris and David Burtka
Known For: How I Met Your Mother, Dr. Horrible's Sing-Along Blog
Relationship Goal: Your love is strong enough to survive public silence.
Neil Patrick Harris and David Burtka didn't announce their 2006 engagement until New York's marriage equality bill passed in 2011—five years later! Despite this lack of public persona on the issue, they nonetheless talked and texted each other constantly throughout every day and continue to do so.
This is an essential relationship goal for any gay couple since so many couples try to prove their worth as an item by being highly public about it. Instead, relationships should focus on what your partner means to you and vice versa. It shouldn't matter who knows and who doesn't (unrelated to discrimination issues because that's just wrong). What should matter is the love you know you have for one another. Just because other people don't see it doesn't make it not true.
Couple: Derek J and Anonymous
Known For: Good Hair, Hair Battle Spectacular, The Real Housewives of Atlanta
Relationship Goal: You stand up to the stereotypes people put on your relationship.
Celebrity hairstylist Derek J posted a picture of him and his anonymous boyfriend on Instagram back in 2013. Immediately thereafter, (straight) female followers of Derek J were in a rage. He received numerous comments about his anonymous boyfriend, the women angry that such an attractive, "straight"-looking guy would be gay. There were complaints that he was "too fine to be gay" and that it was "such a waste." Derek J came to the aid of both his boyfriend and his gay community, calling these women out on their selfishness, short-sightedness, and cruelty. See his full response here. Such comments are important to stand up to when you're in a gay relationship. If people insult you, your partner, or your community due to stereotypes, you have every right to call them out on why they're wrong. Being gay in this world is still difficult and you need to be able to rely on each other for protection when bigoted people are around.
Couple: Sir Elton John and David Furnish
Known For: Candle in the Wind, Goodbye Yellow Brick Road, Rocket Man
Relationship Goal: You still dote upon each other, even when the honeymoon period is long gone.
In a British civil partnership since 2006, Sir Elton John and David Furnish finally married in late 2014 after same-sex marriage legislation passed in Great Britain earlier that year. And while that commitment to love is powerful enough, in the total 16 years they've been together, they have also sent each other a card every Saturday without fail. Such commitment to the smaller things in life may come off extreme, but this dynamic duo definitely knows what they're doing. It's the extra touches to romance that really make it last, and they're often given in littler, everyday ways. Show your partner you care by giving the occasional note, text, or gesture, even if you've been together for practically forever. They'll appreciate it.
Couple: Ellen DeGeneres and Portia di Rossi
Known For: Arrested Development, Ally McBeal, Finding Nemo, Ellen
Relationship Goal: You're able to weather the toughest stuff.
During her Ally McBeal days, Portia di Rossi was gripped by bulimia and anorexia. She struggles with it to this day, having since spoken out about it and even written a memoir, Unbearable Lightness: A Story of Loss and Gain. And all this time, longtime partner and wife Ellen DeGeneres has been by her side. Originally unable to see the problem until di Rossi was in her harder stages, DeGeneres responded by giving her as much support as she needed, even inviting her to talk about it on Ellen in 2010. DeGeneres and di Rossi are great examples of a couple that just won't quit. Situations such as eating disorders are some of the hardest to go through, yet di Rossi keeps fighting it and DeGeneres has risen to the occasion in order to help and support her partner. In the end, the only relationship that will survive is one that can handle the tough stuff.
Couple: Alan Cumming and Grant Shaffer
Known For: Tommy's Tale, Not My Father's Son, Hamlet, Cabaret
Relationship Goal: If one of you is going through something, you're both going through something.
Suffice is to say Alan Cumming has had some hard knocks: he had difficulty when he came out as bisexual, his (step) father was abusive, he later found out who he believed was his biological father was indeed not, and he's dealt with media hounds in regards to all of his private affairs. But much like Portia di Rossi and Ellen DeGeneres, Alan Cumming and his 10-year partner Grant Shaffer won't quit. In his memoir, Not My Father's Son, Cumming talks about all of the woe he went through regarding the paternal figures in his life and how Shaffer was always there for them. Why? Because if one of them was going through hard times, they both were.
Just as weathering the tough stuff is essential in a relationship, so is your willingness to do so. If your partner has a problem, then so do you. It's by forming such a strong bond and getting through the hurt that will make your relationship last forever. By comparison, the little troubles most couples deal with just don't look that bad.
So which of these goals have you already accomplished? What are some others you've seen from some of your favorite same-sex celebrity couples? Tell us in the comments!