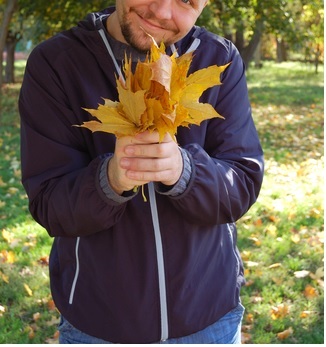 Oh delicious cool and crisp autumn is here! There are so many activities that cause us to get closer. But beware what you might be setting yourself up for and decide if that is what you want before you get there.  These fall days set the tone for the winter to come and some guys may be seeking a stronger bond than you are ready for.
That being said; here are some great ideas for what to do in October! And some signs of moving forward that you need to be aware of (or maybe 'beware' of!).
Go apple picking or pumpkin plucking
Time to have some outdoor fun and get your rosy-cheeked glow on! It is so fun and a perfect cuddly-buddy thing to do. Walking through the orchard or the pumpkin patch, holding hands, steal a kiss (or cop a feel…just don't feel a cop…unless he is your date!)
You pick your fruit or pluck a perfect pumpkin, take it home, make cider or a jack-o-lantern. All great fun but if he's looking long term, he may suggest bottling the cider in batches or baked pumpkin seeds to store for the winter. I mean hey, just because you like nuts, doesn't make you a squirrel!
Sleep in-Order in
This is a welcome respite at the end of a long week. Sleeping in, cuddling, catching up on your fave shows together and then order a sumptuous feast of indulgent foods you don't dare yourself to have on a regular basis. These are all wonderful, warming activities for a cool October day. Just don't get too settled into this routine. It can kill some spontaneity and also might give the wrong signals of hubby-hubby (or hubba-hubba!) relations if you aren't looking for that.
Amazing Maze-a-crazy
What an analogy for our complicated human relationships; going through a corn maze together.
While it is fun and exciting to try to find your way through together and bring you closer together with team-work, it can also be a good indicator of how well you get along in a potentially confusing and challenging circumstance.  If he starts to lose his temper or worse gives up and is the helpless damsel, forcing you into the unwitting hero position, then maybe graduating from cuddly-buddy status isn't where this relationship should go.
Conversely; it may be the perfect time to see that you are meant for each other and lead to some intimate bed warming after!
Whichever way you want it; cuddly-buddy or forever love, good luck in love and lust and happy first week of October!