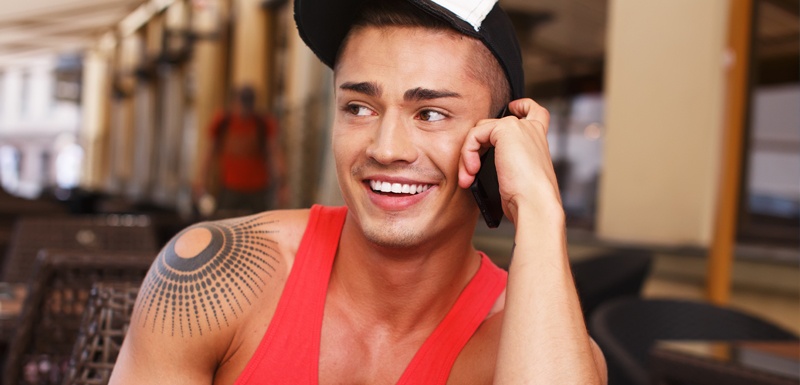 If there's one thing gay and bi men love, it's a good plug. So here's one for Hardline (See what I did there?!).
But seriously, if you're not a bi guy, you may not be aware of the increased worry for full orientation disclosure in the sex and dating world. Sure, gay guys can be targeted for cruelty and rejection and worse, but bi guys not only equally get that from the straight community, but sometimes from the gay community as well. They can often find themselves stuck between telling the truth to a potential partner (or booty call) or just letting it ride, so to speak.
This is one of the reasons why bi guys love talking on Hardline. Callers can safely screen potential…ah…buck-an-eers without having to completely out themselves. If you find a person that's worth the shot (heh), then go for it. If not, you can just move along without them being the wiser.
Bi guys enjoy Hardline provides options for people to state whether or not they're okay with the idea of seeing a bisexual, which allows you to weed out the bi-haters.  Basically, you won't have to go near the nay-sayers because they won't even be listed to you as possibilities. Sure beats (yup) the chances you take at the bars, right? What's worse than getting left in the dust because some guy's weird about bi dudes?
Finally, there's the feature we hope you never have to use: blocking. Is somebody harassing you through our app? Are they being too pushy? Are they saying nasty things since you've told them you're bi? They can be blocked quite easily. And on top of that, you can contact Hardline directly through their customer service hotline: 1-888-700-0479. We will take your call very seriously. Hardline is all about you feeling safe while using our services (If you know what I mean…).
Did I not insert (uh-huh) enough innuendos for you? Sorry, dear, you've hit the end of your plug. And I daresay I'm impressed with how much you're able to handle. Best take Hardline up on one of their (discounted!) offers and have at it.