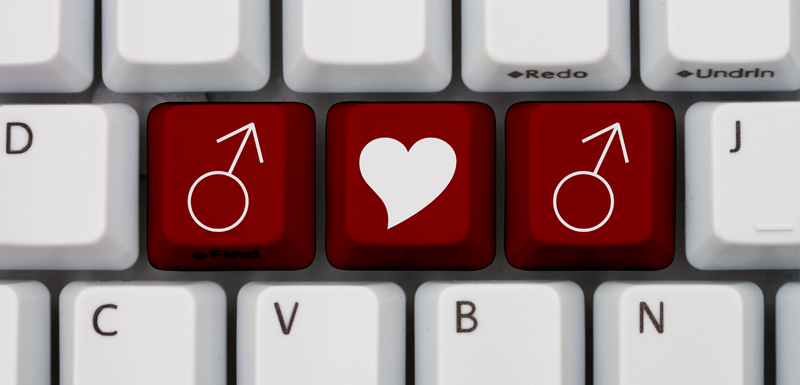 Okay, so in another article, "How to Tell If He's Gay," I feel like I came off slightly mean to gay-curious men. Certainly not my attention. I got so lost in ranting over straight men who infiltrate gay bars for free drinks that I forgot that some men come in and shake like leaves because mainstream society is stupid. I can't blame you. It's a scary world out there.
Despite how rewarding in-person connections are with love and sex, sometimes it can feel downright impossible to pursue them safely. Seeing them through isn't necessarily the hard part. Finding them is. And that's why Hardline Chat has a nifty little app meant to help you effectively find what you're looking for in a virtually risk-free way. Worried about walking into a gay bar and — wouldn't you know it — running into an old family friend? Hardline is discreet and confidential. Scared some hate-monger is going to jump you once you leave a club at 2am? Hardline screens out unwanted persons and has a hotline available to report harassment. When it comes to finding your future husband or a booty call, Hardline couldn't be a safer choice. Now you can make that initial connection, get past the shakiness, and finally meet once the initial worries are out of the way.
And the app isn't just helpful to curious guys. It's great for any gay, bi, trans, or curious guy looking for a gay, bi, trans, or curious guy. Get the point? Hardline's website and app have great filter options to help you find everything you want and nothing you don't. Let's say you don't want to deal with the curious folk because you're too worried they'll end up breaking your heart. All that straight scent is still on them, you know? Hardline can filter them out for you so you don't risk falling for their pretty faces. Or what if you do want a curious guy for the thrill of popping his gay cherry? Then Hardline can show you nothing but them. The choice is completely yours.
Hardline Chat is the best place to meet gay, bi, trans and curious guys. No more threats, no more mixed signals, no more broken hearts because the dude is straight. No more falling in love with men who wouldn't even dream of sneaking peeks in the locker room. That part of your life is over. Technology has your back now. And we're enjoying the view.