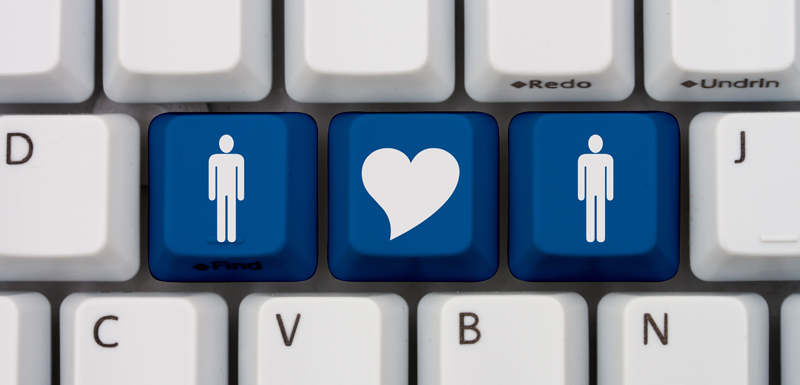 Okay. So you've heard about this thing called the internet and how it supposedly has sites to help you find cute guys to date. Sounds too good to be true, right? But while it's not as simple as putting in a quarter, gay online dating is a breeze if you know what you're doing. And the best part is our beginner's guide is so easy to master!
Pick a Good Profile Picture
For better or for worse, all forms of online dating start with one initial interest: the profile picture. And if you want him to click on your profile instead of the Next button, make sure you have something that'll intrigue him. This is best done by using it to visually explain both yourself and what you're looking for. If you're an animal lover, get your pug in the picture. If you want a hook-up, take a photo with your shirt off or another suggestive method (without getting kicked off the site for showing your bits!). If you're a friendly guy or always cracking jokes, make sure your photo is you showing off your best smile or in mid-laugh. If you're closeted or otherwise against the concept of looks being a guy's first interest in you, go artsy and hide your face with your hand, a favorite book, or a casual look behind you. Get the idea?
Sell Yourself
Well, legally. Pretend you're a salesman trying to sell off a car or a phone or a television. Being the great salesman that you are, you want to talk up all the awesome things about you, right? Sure, there may be a bit of baggage and low battery life and tendency to eat in bed, but those certainly pale in comparison to all of the great features available! So when putting together your profile, don't turn into a Debbie Downer. Make yourself look good by truthfully posting up your best qualities!
Don't Just Say It, Prove It
Basic, forward descriptions of yourself can come off cliché and boring, especially if a guy has been clicking through available men for the past hour or so. Make sure to stand out by writing about yourself in a descriptive manner. Instead of simply saying you're athletic or like the outdoors, say instead that you go the gym twice a week or enjoy taking two-week-long hiking trips around the Appalachia Trial. Don't say you like to cook, say your favorite dish to make is duck l'orange with scalloped potatoes. Don't bluntly state that you're lactose intolerant, say ice cream is your sworn nemesis. Such descriptions make your profile more fun to read and far more memorable; two key ingredients to enticing a guy to hit you up.
Don't Test Date One Person at a Time
Now's not the time to get all loyal. The fact is there are plenty of men available online, which unfortunately also means plenty of men that may not be the best fit for you. You'll likely go through several dates before you find one you'll want to see a second time, so don't waste your resources by dating single file. While this wouldn't work as well in the physical, everyday way of meeting men, there's an unspoken rule that whoring it up online is pretty much expected. Odds are that the guys you're testing out are the doing the same exact thing. Just don't mention it to each other until you start talking about seeing each other exclusively.
Use a Site that Will Cater to What You Need
Your dating successes are only as strong as the site you use, so make sure you pick a good one! Hardline Chat is known for its dedication to you getting the most out of your online dating experience. With the ability to categorize what and who you're looking for, it's easier (and faster) than ever to match yourself to that special someone! So get out there, pick up a few dozen cuties, and see which one wins your heart!
So now that you've turned into the Don Juan of the internet, tell us about a few of your many successes while using Hardline Chat!