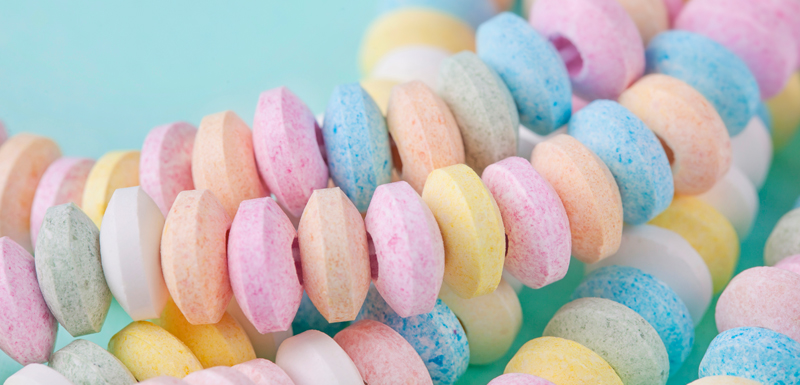 Warning: Targeting your partner's senses is the best way to maximize the amount of pleasure you provide. Incorporating these candies into your sex life will stimulate your partner through sound, smell, taste and touch. Proceed with enthusiasm and execute with handcuffs and/or a blindfold.
1. Pop Rocks
Pop Rocks are great for foreplay. Use them to tease and stimulate your partner through sound, smell and touch. The crackling will increase excitement, the soft fizzling will create a pleasurable sensation and the taste will remind you of your first Halloween.
Here's What You Do:
Pour the pop rocks onto your tongue and give your partner a taste. Next, kiss the pleasure points on your partner's body one by one. I recommend the tip of the penis, lower abdomen and the kissing points along the spine. Allow the pop rocks to fizzle on the pleasure points of your partner's body, while you slowly lick them away.
2. Peppermint Candy
I know it may seem a bit Christmas-y, but peppermint is the Anna Wintour haircut of candies, it never goes out of season. It's also the most inconspicuous candy of them all. Keeping a mint or a pack of gum in your pocket won't clue your partner into what you have planned for him that night.
Here's What You Do:
To begin, casually pop a mint into your mouth and swish it around until your mouth feels like North Pole. Kiss everywhere, but your partner's lips, while you inch towards his penis. On your way down, gently blow, breathe, lick and suck his pleasure points. When you get there, use all four in combination until he reaches the finish line. You're sure to leave him feeling refreshed and satisfied.
3. Candy Necklace
A candy necklace is like a Jack of all trades. You can use it for foreplay, stimulation and climax. Accessorize with a few candy necklaces and bracelets to add an element of surprise. When you remove each piece of the sugary jewelry at the end of the day, he won't know what hit him.
Here's What You Do:
Start by softly kissing your partner on the neck. Next, remove your candy necklace and gently place it around his neck. Bring the necklace up to his lips with your own and share a kiss with the necklace in between each other's tongues. Follow by using his body to slowly roll your candy bracelets off of your wrists while you inch your lips towards his penis. Wrap the bracelets around his penis and use them to stimulate his entire shaft with your mouth. Gradually speed up as you alternate between his balls, shaft and head. Alternate speed and pressure until the job is done.