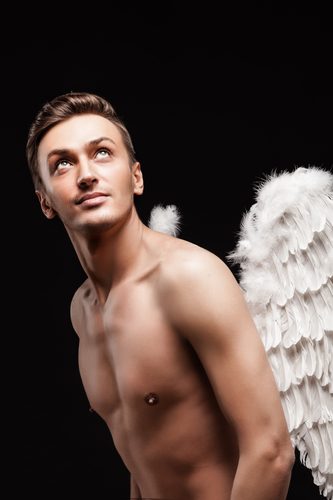 …
…that aren't necessarily gay,  just fun for 2 sexy guys and an awesome Halloween night!
Since I love movies and TV (oh cable only dear, please!) you will see a slight leaning in that direction so without further ado as our All Hallows Even' approaches and that right swiftly, let us peruse my picks for a perfect  playtime costume that can be fun for any dress-up time!
Jesse Pinkman and Walter White- Breaking Bad
Firstly this is one of the most beloved shows of all time and stars two sexy, intense men. This is perfect for a couple with a fairly apparent age differential. Walter is bald so a skin cap is a must; a little facial stubble or the full on hmm…is it a Van Dyke he wears? I never can keep all these manscaping terms straight. (Where's my sister's  old Mod Hair Ken when I need him)? And Jessie has a toque so that's easy. Then a hazmat suit and a gas mask on your head, army surplus or yellow coveralls would do too. If you are Jesse, pepper the ends of your sentences with "yo" and "bitch" or both, as in "she's a real bitch, yo"
Alex and Piper-Orange is the new Black
This is my fave and it is gay….if you consider lesbians gay (and they aren't often….in the traditional meaning of the word gay anyway…but I digress). So without further ado; Piper and Alex from Orange is the New Black. And a subtle nod to the 'howloween' colours too. Oh the giggle factor of a cute gay couple dressing up as a cute, yet incarcerated lesbian couple is just too delicious! So easy to do, a shoulder length blond and wanna-be Betty Page brunette with dark-rimmed glasses, Orange jumpsuits and ta-da! You are good to go!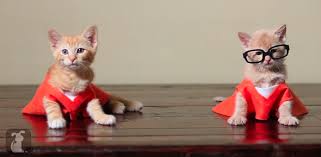 Get it? Cats in jumpsuits! Mrow!
Goldilocks and Bear
Works best if one is a twink and the other is a bear but hey it is still a cute costume either way!
If you are lucky enough to have 4 boys who all want to go party together (that's right, party is a verb now!) then go as Goldilocks and all 3 bears.  No need for a whole bear suit either, a trip to the second hand store will supply you with some fun fur or used fur pieces for a vest and then bear ears can be made on a simple head band then add a cute brown bear nose and whiskers with make-up. Goldilocks has a simple little girl frock and oh…um…what else? Oh yeah….gold locks! A bowl of porridge in hand wouldn't be remiss either!
this 'Gray'dilocks has had a few too many bowls of porridge I think! and  here is a pic of 3 bears to give you some ideas…grrr
Well kiddies, that's my picks for perfect fun this Saturday!