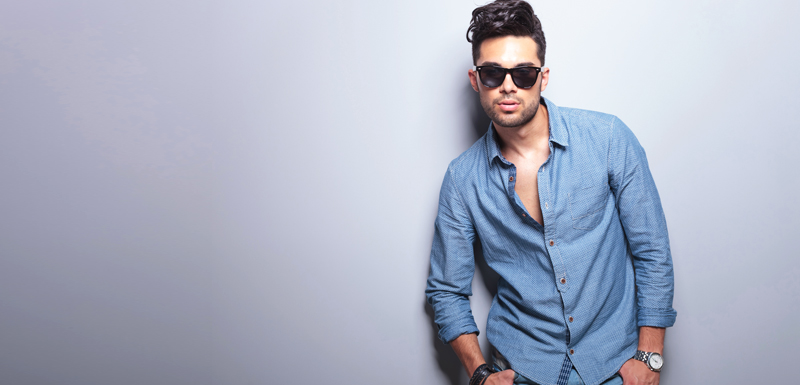 There's the stereotype out there that all gay or queer guys are not only obsessed with fashion, but really, really good at it. Piffle. Some of us are great, but many of us are absolute crap. But that's not to say it's still not amusing as hell to try. Much to our pleasure, many of the most popular queer or gay vloggers have taken a crack at it. Here are our top five queer YouTube Discussions About Fashion.
5. Davey Wavey
Because he has his shirt off more often than not, I actually can't remember what Davey talks about in his videos. But I'm pretty sure they're a mix of funny and insightful. (Also, not wearing anything is totally a form of fashion.) But since he seems to have trouble breaking out of his half-nude trends, here's a video of Davey learning how to dress as a Swedish hipster and…talking about his period? Power to menstrual nonconformity!
4. William Sledd
William is actually known for his fashion vlogs, so he was an easy addition to this list. His discussions range from hair styling to jeans to the defense of sweatpants. As his popularity grew, however, he began to branch out into serious talks about coming out and his family, as well as covering such fun non-fashion topics as baking.
3. Paul Zedrich
Paul is another guy who seems to really have his act together when it comes to fashion. (He also has the most attractive hands in all of creation, but that's beside the point.) Sometimes paired with his beau, Paul has made numerous videos about hair, design, and even his own seasonal lookbooks.
2. Kingsley
Sass-bucket Kingsley has been tearing up YouTube for a while now. Wanna know how famous he is? He's started his own show, "Drama King," as of October 2014. You should check it out! And in the meantime, here's a video of him helping review red carpet fashion from the 2014 SAG Awards in a furry cap. Because that's just as important.
1. Disappointing Gay Best Friend
But just as there are gay and queer men talking about fashion, there are others that like to call it out. Especially when they're stereotypically paired with a female cohort. Leave it to Tyler (and Mikala) to turn the entire calamity on its head in under 30 seconds. Be sure to check out all of their little nuggets of gold, ranging from brunch to Lady Gaga to weddings. Own the fact that you're a disappointing gay friend!