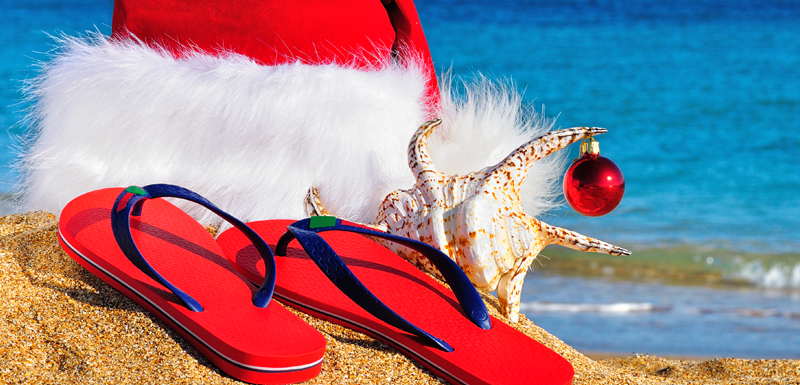 Holiday dating doesn't mean you two can only spend one day together at a time. If you're looking to kick things up a notch or are already pretty darn close, consider taking off a weekend (or more) to do a little travelling. Whether it's a short drive or a long plane ride away, taking a winter vacation together can be one of the greatest ways to spend time with your significant other. We've put together a list of some of the best holiday vacation spots for gay men.
Ao Nang, Thailand
Thinking about Asia? Definitely go for Thailand. It's considered the most gay-friendly destination in Asia and has weather that is just about perfect between December and February. The Ao Nang Pearl, located in Ao Nang, is a particularly attractive spot to stay, being tucked away from the noise of the city in some of the nearby nature. It's also gay-owned, which is a definite plus for your peace of mind. Selective in who gets to stay within their 10 available rooms, the Pearl requests that people who plan to bring children need to call first for permission. The result? A very quiet, peaceful resort.
Rotorua, New Zealand
If you think you're daring enough to really embrace the cold, then Rotorua, New Zealand could be the best decision you ever make. Considered the thermal capital of New Zealand, Rotorua boasts numerous hot pools, thermal rivers, and geothermal parks. You can go swimming in December! Several bed and breakfast places are available in Rotorua, such as Black Swan Lakeside Boutique Hotel, which has received many positive reviews, and the surrounding cities offer gay-friendly saunas, clubs, and bars. Aside from its numerous accolades, Black Swan is simply a gorgeous place to stay, with both its interior design and its views outside. You won't regret it.
Krakow, Poland
If you're big on Christmas in particular, then go for Krakow, Poland. Between late November and early January, this former capital of the country is known for its markets, lights, whimsical architecture, and Christmas cribs. While the market is filled with homemade crafts and creations, the cribs around the city and inside Krakow's History Museum are amazing. (Cribs are large pieces of artwork usually resembling intricate palaces and buildings, made only from paper, cardboard, sequins/beads, and coloured foil.) Krakow itself doesn't boast a huge, gay-specific atmosphere, but there are many LGBTQ clubs that surround it, should you want to take a break from potentially straight people. The Galaxy Hotel of Krakow has been hailed a great gay-friendly destination, being a 4-star resort with great deals and accommodations for both room and breakfast.
Vermont, USA
Vermont has a history of being the go-to winter destination for gay couples with good reason. With many gay-friendly resorts to boast, Vermont gives you the perfect opportunity to rent a cabin and go play in the snow. You can also ski, snowboard, take walks in the woods, and hit up their numerous tourist attractions of dining and window shopping. Want your dog to come, too? Phineas Swann Bed and Breakfast Inn is a great option. They're pet-friendly manner welcomes dogs of absolutely any size without additional fees or damage insurance. (It sounds like they've managed to stay this way because their guests are polite and respectful, so don't be rude!) And since Phineas Swann is located in the upper left region of Vermont, there's the added activity bonus of bird watching and boating.