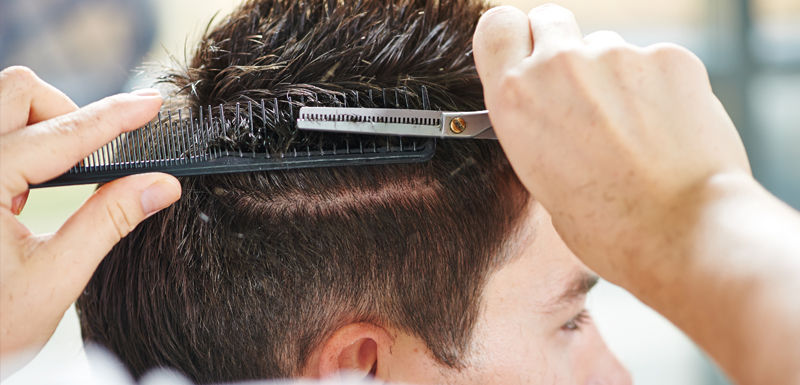 A new year is here, and so are some hot hair styles that will have you craving a new 'do. From retro side parts to messy, tousled waves – there's a little something for everyone in this post. Give it a read and let us know in the comments if you'll be trying out a new hairstyle in 2015.
1. The Deep Side Part
The deep side part has been popping up on fashion runways for years and does wonders for your cheekbones and overall appearance. It adds an air of definition, fashion-forwardness and leaves you looking a little boyish even. Whether you choose to wear it matte, shiny, messy or sleek you'll be on-trend and in style for the New Year. It works best for straight or slightly wavy hair, and probably isn't an option for those with tightly curled hair. You'd be best off skipping ahead to options two through four, my friend.
2. Tousled Waves
Blame it on the beach babes or those hunky hockey players who tear off their helmet to reveal sweaty, wavy hair that can't possibly be tamed… Okay, I went a little overboard there. But you get the idea! Laidback, tousled waves are going to be mega hot in 2015. Then again, when aren't they? Look to Patrick Dempsey, Adrian Grenier (mmm), Joe Manganiello or Orlando Bloom for this look done perfectly. The less intentional it looks, the sexier it gets.
3. The Messy "Pushed Forward" Do
Before we continue with this one, it should be made quite clear that we are not about to revert to the Fall Out Boy era of pin-straight side bangs or bangs so long they cover your eyes. Those were, and will always be, a big no-no. Instead we're looking to Chase Crawford, Ashton Kutcher, Zac Efron, and Matt Lanter for hair inspiration. It's all about building up some body at the crown and pushing the hair forward and down – but not too slick. Like trend number two, this one works best with a little tousling.
4. The Man Bun
We don't know exactly what it is, but long hair on men is seriously hot. The man bun, man pony or samurai bun – whatever you want to call it – takes it to a whole new level. If you're looking for long hair inspiration, we recommend checking out Oliver Proudlock, Harry Styles and Edward Sharpe. But please, for the love of hair, avoid copycatting any of Jared Leto's hairstyles. Ombre extensions more intense than Nicki Minaj's? Not a good look.
Are you going to change up your hairstyle for 2015?