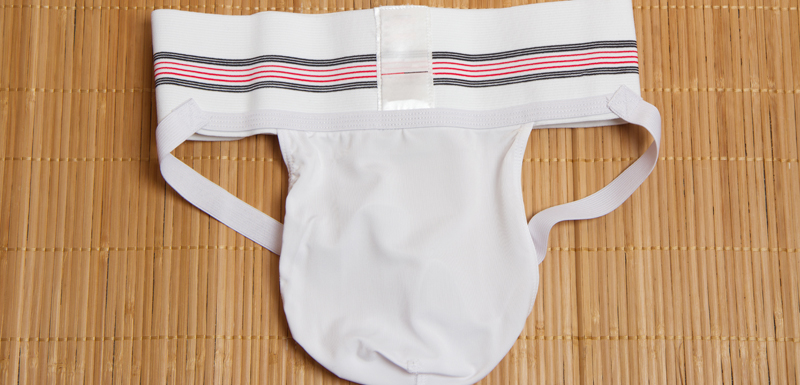 Let's be real: underwear is underwear. Or, at least, underwear used to just be underwear. While many of us have been stuck thinking that underwear is just something you're expected to put on for reasons we don't quite get, some companies have since evolved it into a garment that stands for oh-so-much more. Balderdash and poppycock, you say. What in the world can underwear do these days? Perhaps you should take a look below for a few examples of functional, yet sexy male underwear!
1. Name: My Pakage Weekday Boxer Brief
Brand: Gear X
What it does: Coined as the Wonderbra for Men, My Pakage underwear by Gear X essentially keeps your junk in place by giving you comfort and support where you need it most. Using My Pakage's patented KeyHole Comfort Technology™, you can use the 3-dimensional pouch to no longer deal with constant shifting and adjusting.
Where to get it: Gear X
2. Name: MANstore Hysterie Bungee String
Brand: MANstore
What it does: Another style to embrace the "lift and separate" concept that women have long kept a secret, MANstore's Hysterie Bungee String is a G-string with a pouch that enhances, uplifts, and gives you the support and freedom of feeling like you're wearing nothing at all. The bonus with this brand is it's semi-transparent, making it about as seductive as you can get.
Where to get it: Dead Good Undies
3. Name: D. Hendral AngleFit
Brand: D. Hendral
What it does: With a Y-shaped angle fit in the seams of the seat, AngleFit by D. Hendral enhances your derriere so much that guys can't help but take a look. You can choose an angle of 135, 115, or 95 to find the best fit for you and the exact amount of booty you want. The stretchy material is form fitting for a perfect covering for your contours, giving you perkiness, support, and a silhouetted look.
Where to get it: D. Hendral
4. Name: UA Original Series
Brand: Under Armour
What it does: Under Armour is a name that's lasted for a reason. Their specially designed underwear comes in all styles—boxers, briefs, and everything in between—and is made with moisture control in mind. Whether it's exercising or summer days or being a just plain sweaty guy, Under Armour's smooth, stretchy fabric wicks away sweat and dries it quickly, leaving you feeling less like a swamp monster and more like yourself. Their moisture-controlling products also come in other forms of underclothes, like undershirts and athletic gear. You'll never be gross again!
Where to get it: Under Armour
5. Name: Simplicity Men's 3D Padded Coolmax Underwear
Brand: Simplicity Men
What it does: Bicycling is nice and all, but there's a problem with that banana seat: it pinches your bits and pieces something awful. And the longer you ride, the worse it gets. So that's why Simplicity Men created 3D Padded Coolmax Underwear. It not only wicks away moisture like Under Armour, but additionally provides a padded gel insole to ease discomfort and pressure. While 3D Padded Coolmax Underwear is often worn as an undergarment, it can also easily be used as biking shorts.
Where to get it: Amazon