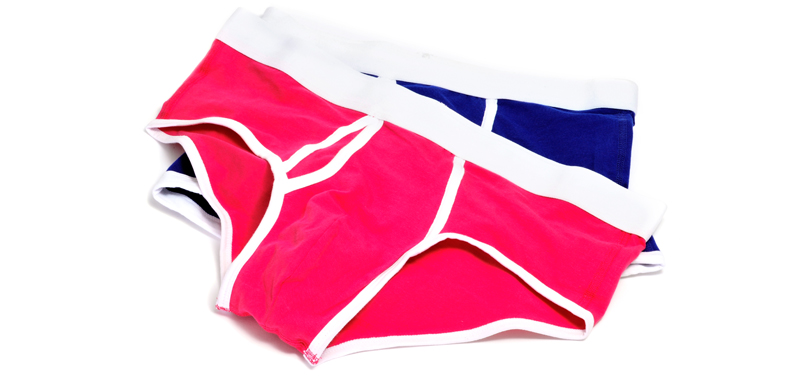 We can win the age old debate of boxers, briefs or boxer briefs in three words: crazy, sexy and cool. On a scale of 1 – 10, cool being ten, sexy being seven and crazy being straight… uh we mean zero. Now everyone is entitled to their own opinion, but if you rate boxers anywhere above a zero then your opinion doesn't count. Here's why:
Boxers
Boxers are by far the most unappealing style of underwear.  Whether you're gay, trans or bi, this baggy, unappealing undergarment should never meet your precious derrière. The number one thing you bring up during a game of Never Have I Ever when you're trying to figure out which men are straight and which ones are gay, bi or trans is "never have I ever worn boxers." Trust us when we say that boxers are the straight man's underwear. Boxers are the "crazy" of the group because you've got to be either crazy or straight to wear them and think it's okay.
Briefs
I'd like to start off this underwear category by saying one thing: "Your grandfather wears briefs," *drops mic, *walks away, *comes back, *picks up mic. But let us continue by saying that your grandfather must have been one helluva looker back in his day because today, boxers are the ish—when worn the right way of course.
It's all about the colour and size. They obviously have to be tight enough to show off the goods, but not tight enough to pull at your pubes. You wanna stay away from the white, Captain Underpants looking briefs and steer more towards rich colours like royal blue, royal purple and forest green.  Briefs are the "sexy" of the underwear trio because they show off the most skin, hug your package and when worn in rich colours they attract all of the right attention.
Boxer Briefs
Boxer briefs are like the hybrid of men's underwear. They accentuate your package, they fit comfortably under your fitted jeans and they don't pull at your pubes. Tight in all of the right places, comfortable and easy going, boxer briefs are most definitely the "cool" of the underwear trio.
We're thinking of renaming this article to "To Wear Briefs or to Wear Boxer Briefs…? That is the Question;" because the answer to whether or not you should choose just a plain old pair of boxers is always no. What do you guys think? Comment below!