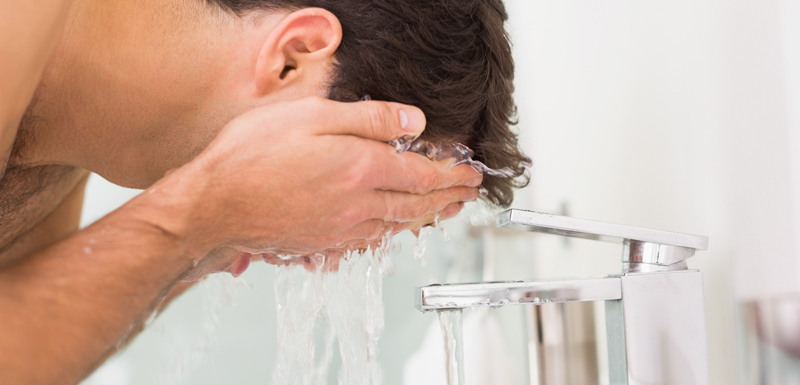 Pfft. Winter. Amirite? The season can be great in all sorts of ways, but the frigid wind, artificial heat and dry temperatures can be hell on the skin. According to the Men's Health dermatology advisor, Dr. Adnan Nasir, "Cold weather reduces skin temperature. This means it produces less oil in the winter, causing it to dry out." Basically, guys need as much care in the skin department as the ladies do, so there's no reason for us to neglect ourselves in this season of desperate need. Take a look at our guide to the best winter skin care products for men below. It will help you find the best skin care regimen to help you survive the worst of the winter and keep your cheeks baby-soft. Both sets, should you feel so inclined.
Washing
The way washing works is pretty simple: it strips off all the oils from your skin, both natural and man-made, to get rid of the dirt. The problem here is winter climates make it more difficult for your body to regain its natural, necessary oils. So if you have a body wash that's too harsh, you could be drying yourself out before you even leave the house.
Neutrogena Men Invigorating Face Wash
Specifically designed with men in mind, this wash won't clog pores or dry out your skin while still managing to rid you of dirt. While this wash does its duty while still keeping dryness at bay, please note that it doesn't seem the best for sensitive skin, according to reviews.
Another product to cater specifically to men's skin needs, this line of wash products not only keeps your skin from drying out, but also gives some hydration back. It seems to also be gentler for sensitive skin and is suitable for daily use.
Moisturizing
After washing with a decent liquid soap, it's important to immediately combat the oils you just lost in the shower by moisturizing your skin as soon as you've towelled off. The faster you give your skin something to soak up, the less time it'll be exposed to dry elements.
Scent-free and natural, Bulldog moisturising products give you everything you need and nothing you don't. There are no harsh chemicals, colors, or falsities, just essential oils and vitamin E to help hydrate your skin without going overboard.
Made for guys with naturally dry skin, Assassin gives you some heavy duty hydration to not only combat your usual skin woes, but with extra oomph to survive the winter. Consider a different product if your skin is naturally on the oily side. Your face and body may get unhappy with you.
Added Effects
Cold weather and wind speeds up the process of naturally losing moisture in your lips throughout the day, resulting in something pretty much like sunburn in the winter. Lip balm is hugely essential is keeping your lips from getting dry and chapped, which will ultimately work out in your favor between you and your date.
With SPF15, this lip balm helps combat the "sun"burn of the winter, providing and locking in moisture for your lips in manly packaging. With the added bonus of conditioning as well as hydrating, this balm can last for hours.
Another to have SPF15, this balm is fragrance free with Shea butter, aloe and vitamin E for moisture and hydration. It also comes in its recognizable Every Man Jack packaging, so there's no worry of it being mistaken for a lady product.