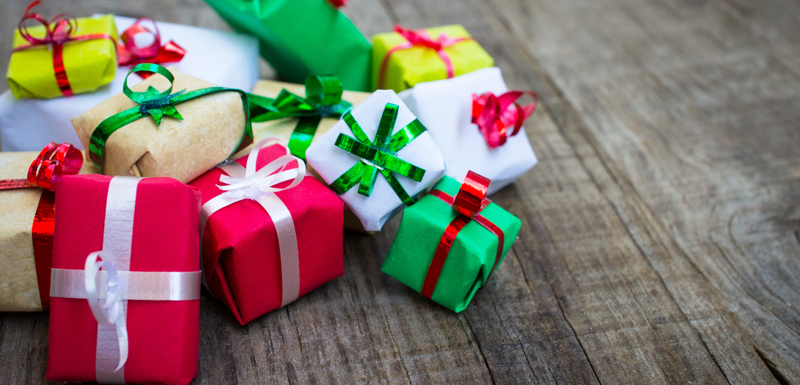 You know it's December, right? If you have a significant other in your life—you can thank Hardline later, you lucky minx—it's time to start thinking about a good gift or two for him. But you don't want to get him just any old thing. You want to get him something that's cool, that's popular, that matches him perfectly while making yourself look like the most imaginative dude ever. Sound good? Then take a look at the suggestions we have below in our holiday gift guide.
Item: Long John Thermal Collection
Brand: Calvin Klein
Price: $59 (per piece)
Why he'll want it: With its waffle design to help keep in the warmth, your boyfriend will stay comfortable and happy with these long johns and shirts. They're a demure black and fit well to the body, available in several sizes to suit any guy's needs. Also, it's technically underwear. Buying underwear for your man is sexy.
Item: Veggie Spiralizer
Brand: Paderno
Price: $49.88
Why he'll want it: If your guy is a health nut—like, seriously—then he'll be all about this. The in thing right now for the health-conscious foodie is turning vegetables into a kind of spaghetti. (Well, that's what it looks like. But apparently the technical term is "zoodling.") The veggie spiralizer ribbons virtually any manner of food easily, morphing it into an impressively pretty display of curls. He can use it for eating purposes and you can use it when he's not looking for your own, healthy version of "but will it waffle?" Just make sure to get him a new one when you break it.
Item: DC Superhero Shot Glasses
Brand: Convenient Gadgets & Gifts
Price: $14.95
Why he'll want it: Unless he's strictly a Marvel fan, your beau should love these. What's not to enjoy about drinking booze from Batman's chest? Pair this with a bottle of his favorite liquor and you've set yourselves up for a fantastic indoor date. Just watch out for hangovers.
Item: Six-Pack Bike Caddy
Brand: Urban Outfitters
Price: $64
Why he'll want it: What's not to love about this? If your guy is an adamant biker as a means of travel and he goes to a lot of parties, this is the perfect gift. Original, eclectic, and incredibly useful. Now he can take six glass bottles on his bike without a worry! And in its brown leather and silver stud design, it gives off a great kinky vibe in a retro horse sort of way. Grab this one fast because it definitely won't last long.
Item: 3D Pen
Brand: 3Doodler
Price: $99
Why he'll want it: Don't freak out. Repeat: Don't. Freak. Out. This is probably something you may want to tell him yourself before he unwraps this one. If he's a geek or an artist or otherwise creative person fascinated by 3D printing, take him to the next level with the first 3D pen. With plastic refills available in various colors, your guy can start making all sorts of creations. Get him some extra refills and print out some of the stencil and craft ideas online for him and he'll be ready to go.