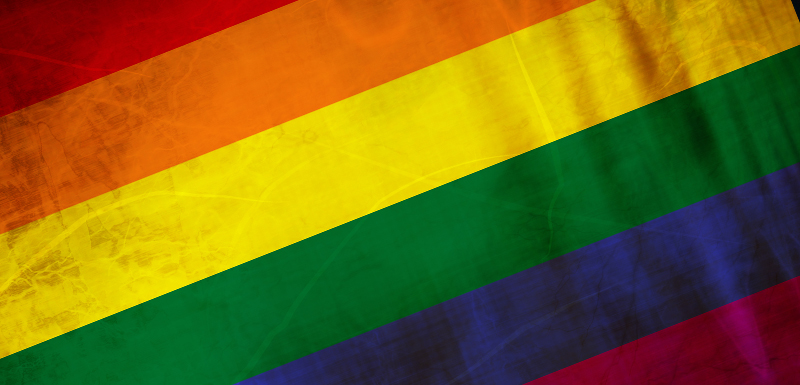 The age of the internet has provided us with all sorts of opportunities to spread the word of the LGBTQ community and to promote, encourage and report on our progress across the world. Below are 10 of the most noted and influential gay rights activists on Twitter today. Follow them and see what all the fuss is about!
Sunil Babu Pant/@SunilPant
Sunil Babu Pant is the first openly gay politician in Nepal and has had no problem dedicating himself to the fight for LGBTQ rights for the people of his country. In 2012, he also deactivated his Facebook account and wrote a letter to CEO Mark Zuckerberg in an effort to get the company to include more than two gender identifications. He's since continued to use his Twitter account to spread the news of goings-on in the world of gay, trans, and third-gender rights in Nepal. This year, he was nominated for the Nobel Peace Prize for his work and activism.
Peter Tatchell/@PeterTatchell
Peter Tatchell is an Australian political campaigner who has been fighting for gay rights since the early 1970s. He's a member and co-founder of the British LGBTQ rights group OutRage! and has worked on such campaigns as Stop Murder Music, which exposes lyrics intended to encourage violence against the LGBTQ community. In 2012, he won a Lifetime Achievement award at the UK's National Diversity Awards.
Dr. Frank Mugisha/@frankmugisha
Dr. Frank Mugisha came out to his family at the age of 14, losing some of them to estrangement thereafter. He's since been working for LGBTQ rights in his country of Uganda, founding Icebreakers Uganda, meant to support individuals coming out to their families, and is now the executive director of Sexual Minorities Uganda (SMUG). He's been given the Robert F. Kennedy Human Rights Award and the Thorolf Rafto Memorial Prize for his work. He's a nominee for this year's Nobel Peace Prize alongside Sunil Babu Pant.
Cleve Jones/@CleveJones1
Cleve Jones is best known for his AIDS activism, being the mind behind the NAMES Project AIDS Memorial Quilt, which currently reigns as the world's largest piece of community folk art at 54 tons. He also co-founded the San Francisco AIDS Foundation and has been Grand Marshal to several Pride Parades across the United States. He was a close friend to the first openly gay public official, Harvey Milk.
George Takei/@GeorgeTakei
Star Trek star George Takei has been an activist simply by being out as a famous, iconic figure. Through his visibility, he has shown many generations of fans that it's okay to be gay. And, in fact, it can be downright cool. Aside from his activism tweets, Takei often takes the lighter side of things, posting whatever amusing tidbits he finds on the internet and reminding all of us how important it is to laugh.
Everyone Is Gay/@everyoneisgay
Instead of being a single, breathing entity, Everyone Is Gay comprises itself of several people looking to be a fun and quirky resource to LGBTQ youth. Founded by Kristin Russo and Dannielle Owens-Reid, the project primarily answers youngsters' questions and appears at high schools and colleges.
Peter Staley/@peterstaley
Peter Staley has dedicated the bulk of his activism toward AIDS and gay rights. He co-founded the Treatment Action Group (TAG) in 1989, a group that worked to improve AIDS research. He was one of the main focuses of the Oscar-nominated documentary How to Survive a Plague, and was appointed to the National Task Force on AIDS Drug Development in 1994 by President Bill Clinton.
Dustin Lance Black/@DLanceBlack
Dustin Lance Black is an openly gay writer and activist. He worked with the American Foundation for Equal Rights and the Trevor Project, wrote the Oscar-winning screenplay for Milk, is a founding board member for the American Foundation for Equal Rights, and was a speaker at the 2009 LGBT March on Washington. He won an Academy Award and a Writers Guild of America Award for Milk.
Dan Savage/@fakedansavage
Dan Savage is an out sex advice columnist best known for his podcast, Savage Love. He was the co-founder of the famous It Gets Better project, which promotes positive and encouraging stories of being gay in the hopes of preventing suicide among gay youth. His podcast is currently ranked at #1 in the Health category of iTunes and is in the top 20 of overall podcasts.
Ross Murray/@inlayterms
Ross Murray is incredibly active with his Twitter account, constantly tweeting the most up-to-the-minute news stories regarding gay rights. He is currently the director of news at GLAAD and is the founder and director of the Naming Project, which is a faith-based camp for LGBTQ youth.